"Looks like I waxed my car after I only washed it. The shine is incredible. Rain falls right off rather than leaving spots"
Regular price
Sale price
$12.00 USD
Unit price
per
Sale
Sold out
Safely remove abrasives and build a protective layer with Ceramic Boost Shampoo. 
+ Adds a ceramic coating every time you wash your car
+ Creates a thick lather that breaks down and lifts dirt particles 
+ Safe on delicate paint, glass, wheels, & exterior trim
Risk-Free 45 Day Trial

Try Risk-Free with Our Ironclad Guarantee!

We're so confident in the power of our products that we offer an unbeatable 45-day results guarantee.

Your satisfaction is our top priority, which is why we're thrilled to extend this risk-free opportunity to you.

If you're not seeing the exceptional results you expected or if you simply don't love your purchase, we've got you covered. No questions asked, no hassles involved - just a straightforward, full refund.

We're constantly pushing the boundaries to provide you with the best possible experience. That's why we invite you to take our products for a spin.

What's the catch?
Give the product a try on at least three separate occasions, documenting your journey with pictures or videos. Follow our expert washing and usage guides to maximize your results.

Here's how to claim your ultimate satisfaction:
Reach out to us via email within 45 days of delivery, sharing your experience along with supporting visuals. Once we've approved your claim, return the products to us, and we'll promptly process a refund for your order (excluding shipping costs).

Take the leap and experience our premium car care products with absolute peace of mind. It's time to discover the difference that sets us apart.

Your satisfaction is guaranteed, so why wait? Order now and unlock a new level of car care excellence!
How To Use

Before Usage:


Apply to cool/cold surfaces only.

DO NOT apply in direct sunlight.

Once applied, DO NOT leave shampoo to sit & dry.

Shake the bottle well before using.

Instructions:


Pour 1-2oz of product into a clean bucket. Fill a bucket with a 1:100 water ratio, mixing the shampoo until foamy.

Prepare a second 'rinsing' bucket filled with clean water.

Pre-rinse your vehicle with a high-pressure water hose, agitating and removing any dirt, grime or debris that may be stuck to surfaces.

Dunk a clean wash mitt into the first bucket, soaking the mitt with a thick lather of soapy water and foam.

Begin washing your vehicle panel by panel, cleaning the least dry body panel first.

After washing one panel, dunk the wash mitt in the second bucket, rinsing & removing any abrasives.
Once the wash mitt is visibly clean & free of any abrasives, repeat step 4 for each body panel.
FAQ

How much Silicone Dioxide does this shampoo contain?
Our formula contains 15% Silicone Dioxide, making it the most potent in the market.

Is it safe to use on vinyl wrapped or PPF wrapped cars?
It is totally safe to use! Our formula is pH balanced and does not strip or degrade wrapped surfaces.

Will this work with a car that is already ceramic coated?
Ceramic Boost Shampoo will greatly benefit a car that already has traditional ceramic coating. This works to top up any existing coatings, waxes and sealants already applied to your car.

Can it be used in a foam cannon?
It sure can! Just add 1-2oz mixed with water. This will produce a thick, soapy lather.
Shipping & Delivery

Dispatch:
Once you place your order, we will begin to pack and dispatch your order within 1 business day.

We pack each order for protection during transit. If your order arrives damaged, please contact us and we will replace it free of charge.

Delivery:
Delivery time will depend on your country, state/region and environmental factors. Please allow 10-14 working days for international delivery.

Tracking:
Once your order is dispatched, we will provide you with a tracking number. You can use this number to stay updated with your delivery and make any changes with your local postal service.
View full details
Unleash the Power of Ceramic Infused Cleaning
Coat & Protect

Use it on a coated car to revitalize your ceramic coating or on a non-coated car to add water beading properties

Bucket, Gun or Cannon

Wash with a mitt and bucket, a foam gun connected to your garden hose or a foam cannon connected to your pressure washer.

Super Concentrated

A little goes along way! 1-2oz is all it takes to lather no other soap, safely lubricating and pulling dirt particles away from the surface.

PH Balanced

Gentle on all exterior parts like paint, clear coat, polished metals, glass, and plastic trim. It's safe on waxes, sealants and ceramic coatings too!
Extend The Life Of Your Clearcoat
Ceramic Boost Shampoo is infused with 15% SiO2 which leaves behind ceramic protection and incredible gloss.

The silica-rich formula creates a durable, hydrophobic barrier for enhanced water beading and sheeting. It also helps repel water, dirt, and grime, keeping your car cleaner for longer.

Say goodbye to traditional car shampoos and hello to a cleaner, shinier car with Ceramic Boost Shampoo. Order now and experience the difference for yourself!
BUY IT NOW
Wash & protect in 3 easy steps
Prepare

Fill a regular bucket, or foam cannon gun, and mix product with clean water.

Apply

Apply product to your vehicle and work the product into the surface in long, sweeping motions.

Rinse

Rinse with a hose, watching as water beads up and effortlessly falls off your paint.
People also bought
Discover our complete range of high-performance car care products designed to help you achieve a flawless finish with ease.
insane beading from a shampoo
very impressive stuff, enjoyable wash and great protection left behind for a shampoo
Arrived in good time
I haven't used yet as I got a scuff on rear bumper and thought I should sort that first.
Product looks good and I am sure it will perform as I expect.
Unleashing Shine with GT Shine's Ceramic Boost Shampoo
The Ceramic Boost Shampoo from GT Shine works wonders. It goes beyond just cleaning, adding a protective layer to the car's surface. It might not foam much, but it definitely delivers - the water repellency and shine after use is noticeable. The pH neutrality is a plus, ensuring it doesn't damage existing protective layers while effectively removing dirt and grime. Truly a game-changer for car maintenance!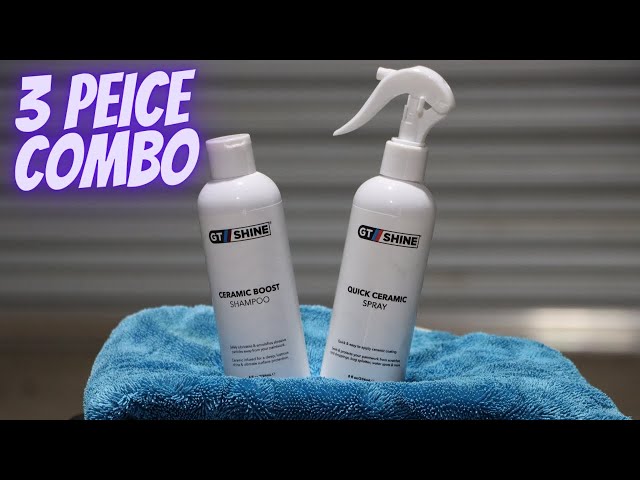 Ceramic Boost Shampoo certainly boosted my beads.
My first use of this today, it is a ceramic infused shampoo that adds protection as you wash. As you can see in the reel it really does too, making water sheet off much faster and bead impressively.
To use it is very slick making it safe to remove dirty and while it's sudsy in the bucket that didn't transfer much to the panel but that is normal for protective shampoos.
@gilly_wash
Amazing products! Shocked by the results.
I have used many products to maintain and clean my cars. Spent hundreds and hundreds of dollars on products that never worked well.
I came across the range GT Shine offers and thought I'd try it out. I thought I would have the exact same experience as all the products I've tried and purchased in the past but WOW!
The products are great, the Ceramic Boost definitely helped and noticed almost instantly that the beading on my car is 100x better as opposed to using other products. The GT Shine drying towel is honestly the best product I have ever used through my whole life. Has made everything so much easier and QUICKER than anything on the market.
I would highly recommend GT Shine. I would give more stars if I could.
Amazing Shine GREAT Product
Love this ceramic boost shampoo which makes paint not only shine and look amazing but also gives a great waterproof finish
Good soap at a value
The soap works well and does help bead water off. I included a picture of the foam, but I don't have a great foam cannon and it doesn't make big suds with any soap I've tried so far, so others may have different results.
Great product
Use this in the foam cannon at first to recharge the ceramic layer that was already on the car.
The next time I just added some to my wash bucket, it did was slicker and with the added suds, I was able to give it a better contact wash. Noticed a better hydrophobic layer afterwards.
Definitely a great product looking to buy the gallon next time.
My new vehicle wash
This stuff was awesome to use. Used recommended amount or slightly less. It made lots of suds which did not go away. I had to add more water because of washing and even more suds.
The product smelled great, took all the dirty, saltwater film, bug guts off the paint. I didn't have to scrub.
If anything changes I will update.
Works!
This shampoo definitely works if you're looking for something for a ceramic coat this stuff works! I would suggest using it in the bucket.
I wash my car with this using the two bucket method because my car is black and it's a nightmare…😥 But it is ceramic coated and this stuff definitely helps bring back the hydrophobic properties and very sudsy also.